Shipping and Packaging Information
What you should know about shipping: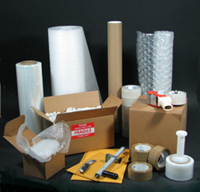 You may be paying more than you have to every time you ship an item. Use our helpful tips to reduce costs when shipping:
1. Use the proper sized box
Saving money by using that old box lying around may seem like a good idea at first, but if the box is not a proper fit for the item you may end up paying a great deal more in shipping than you would have if you had purchased the correct sized box. When you use a box that is too big, you are paying to ship unused space. Any items such as totes, coolers, pails or other cases that are not inside of a shipping box will be charged an extra fee by the delivery carriers.
2. Insurance
Proper packaging is essential to ensure coverage from insurance. If your item is not properly packaged, buying insurance will serve no purpose. For fragile and valuable items, double boxing with two inches of packing material around the inner box will not only provide additional protection but also legitimizes your insurance claim.
3. Use proper packaging materials
Please use packing tape only. Do not use masking tape or duct tape, as these types of tape are not suitable for securing the outside of a shipping box. You cannot ship a package wrapped in brown paper or wrapping paper.
4. Contents within your box
Items within the box should not make noise. All batteries from electronics and other powered devices should be removed from the device before shipping. We cannot ship aerosol cans, alcohol, cigarettes, or other hazardous materials. If you have any questionable items, please call and we will be happy to advise you about your materials.